With so many options available, selecting the right type and size of yacht to match your boating lifestyle can be complex. This comprehensive guide covers the most popular categories of yachts and key differences to help you identify the ideal vessel.
Here is a table summarizing the key details of the major yacht types covered in the article:
| Yacht Type | Size Range | Key Attributes | Starting Price Range |
| --- | --- | --- | --- |
| Motor Yachts | 40-90 feet | Luxurious amenities, entertaining spaces, multiple staterooms | $1 million+ |
| Sportfish Yachts | 45-70 feet | Purpose-built for offshore fishing, speed, endurance | $900,000+ |
| Center Consoles | 25-50 feet | Open layout optimizes fishing, versatility | $100,000+ |
| Flybridge Yachts | 45-70 feet | Raised helm and entertaining space on top deck | $1 million+ |
| Catamaran Yachts | 40-75 feet | Twin hulls provide stability, spacious interiors | $500,000+ |
| Express Cruisers | 30-50 feet | Blend of speed, style and overnight accommodations | $250,000+ |
| Superyachts | 70+ feet | Ultimate luxury amenities and features | $5 million+ |
What is Considered a Yacht?
While opinions vary, most define yachts as ranging from 40-90 feet with accommodations and amenities for extended stays onboard. The term "superyacht" refers to the largest luxury yachts over 79 feet.
You might also like reading: How much do yachts cost?
Motor Yachts – The Epitome of Luxury
The most common yacht type, motor yachts range from 40-90 feet and are characterized by their luxurious amenities and spacious layouts ideal for entertaining. Motor yachts come equipped with multiple staterooms, heads, an expansive flybridge, and a full galley. Popular models like Princess Yachts and Prestige Yachts exemplify the lavish motor yacht lifestyle.
With the capability of comfortably accommodating families and groups of 10-12 guests, motor yachts are perfect for hosting parties, chartering, and extended cruising adventures. Expect to invest $1 million or more for motor yachts over 55 feet.
Consider reading our article "How Long is a Boat" for additional insight on boat and yacht sizes.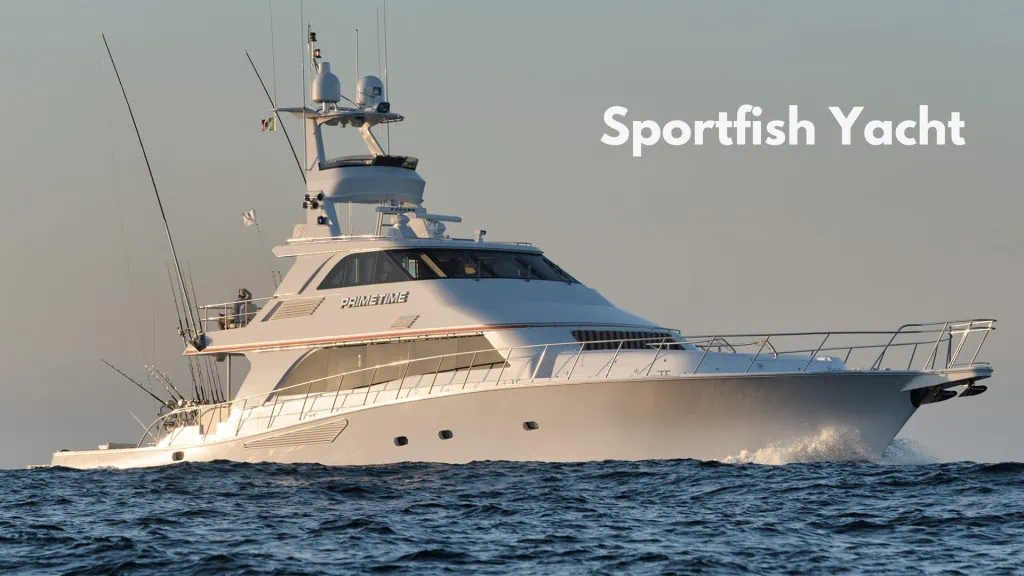 Sportfish Yachts – Built for Battling Big Game
Purpose-built for offshore sportfishing, sportfish yachts combine the functionality of a hardcore battlewagon with the comforts of a luxury cruiser. These vessels range from 45-70 feet and are designed for speed, endurance, and fishability.
Sportfish yachts feature a cockpit and helm focused on angling, plus expansive living spaces inside and out. Key attributes include towers, outriggers, rod holders, bait stations, fish lockers, fighting chairs, and tender storage. Top makers like Viking Yachts produce sportfishers starting around $900,000.
Check out our article on how much a sportfishing yacht costs, and prepare for sticker shock!
Center Consoles – The Ultimate Fishing Machine
Ranging from 25-50 feet, center console boats offer unmatched versatility and fishability for inshore and offshore anglers. The open layout provides 360° visibility from the central helm console and maximizes deck space fore and aft.
While center consoles excel at fishing, they also serve as rugged family boats with amenities for watersports and overnighting. Advanced builders like Valhalla Boatworks outfit center consoles for ultimate performance. Smaller models start around $100,000.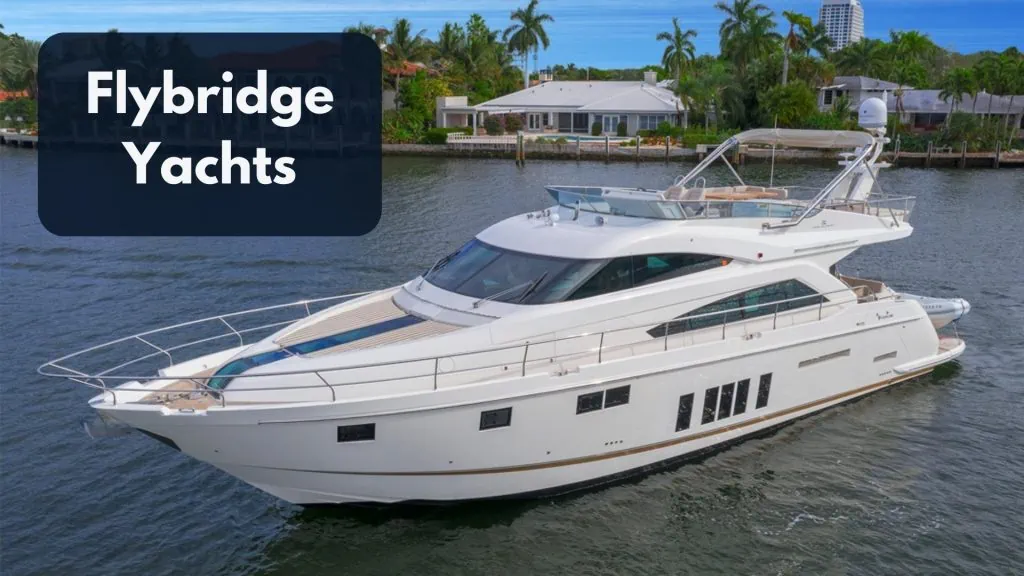 Flybridge Yachts – Outdoor Living Meets Luxury
Flybridge yachts feature a raised helm station and entertaining area on the top deck, providing excellent visibility and outdoor living space. The flybridge typically includes seating, wet bars, grills, and sun pads.
Ranging from 45-70 feet, flybridge yachts deliver a blend of socialization, luxury, and functionality for cruising or island hopping. Major brands like Princess Yachts and Prestige Yachts offer flybridge models starting around $1 million.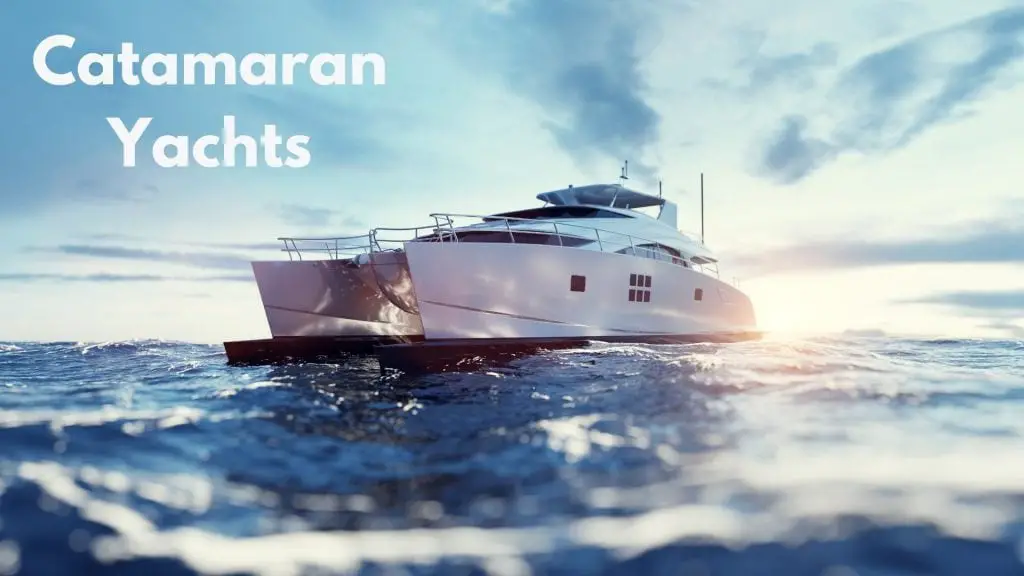 Catamaran Yachts – Stable, Roomy, Efficient
Catamarans are multi-hulled yachts prized for their stable ride, expansive interior volume, and deck space compared to traditional monohulls. Sailing and power catamarans come in sizes from 40-75 feet.
The twin-hull design provides more living area, better seakeeping, a shallower draft, and 35-50% greater fuel efficiency than comparable monohulls. Luxury builders like Sunreef Yachts produce catamarans ideal for extended cruising and chartering.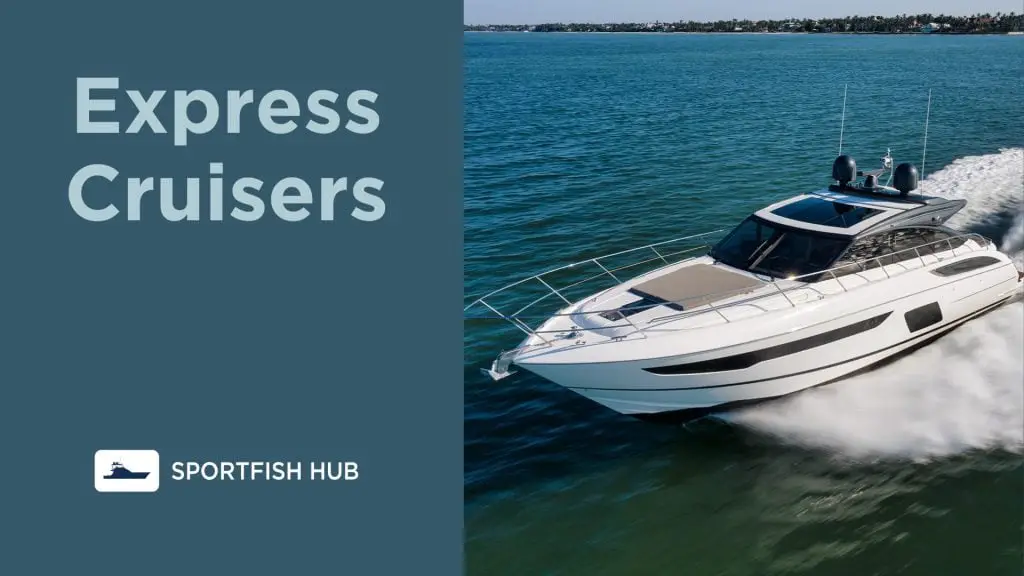 Express Cruisers – Blending Speed and Style
Express cruisers range from 30-50 feet and feature sleek, sporty profiles with spacious cockpits for entertaining. Most express cruisers include cabins for 2-4 guests and a galley for overnighting or weekend trips.
Offering versatility for day cruising or short vacations, express cruisers can reach speeds over 30 knots powered by twin outboard or inboard engines. Popular makes include Cruisers Yachts, Sea Ray, and Regal.
Superyachts – The Pinnacle of Luxury on the Seas
Superyachts represent the largest, most opulent yachts over 70 feet designed for the ultimate lifestyle on the water. Loaded with amenities, superyachts feel like private luxury resorts. They often feature multiple decks, formal dining for 12+ guests, lounges, gyms, spas, theaters, and water toys.
While smaller yachts start around $5 million, most superyachts cost $10 million to well over $100+ million. High-end builders like Amels and Lürssen create custom superyachts for elite owners.
How to Select the Right Yacht Type for You
Analyze how you plan to use your yacht and the activities you enjoy to choose the category that aligns with your boating lifestyle and budget. Consult experienced yacht brokers to find the ideal make and model within your desired type to fulfill your needs and adventurous spirit.
Conclusion
With so many yacht types available, it's essential to match the right vessel to your boating lifestyle. Analyze your needs and preferences to determine whether a luxurious yet agile express cruiser, a stable catamaran, a battle-ready sportfish yacht, or a lavish motor yacht best suits your activities and adventures. This guide provides the key insights needed to confidently navigate the options and find the ideal new or used yacht to make your dreams of owning your perfect boat a reality.
FAQ
How many crew members are typically on a private yacht?
Crew size varies, but most 40-70 ft private yachts have 2-4 crew members, including a captain, mate, chef & deckhand. Superyachts can have 10-30+ crew members.
What are the most expensive luxury features on superyachts?
Helipads, pools, spas, gyms, theaters, and submarines are top-tier luxury features running millions each. Artwork and exotic materials also drive costs.
How is a new luxury yacht constructed?
The process takes 2-4 years. Designers create custom plans. Skilled craftspeople fabricate parts. Components are assembled at shipyards. Extensive testing and outfitting concludes build.