Offshore fishing opens up a thrilling world of big game fish, but to make the most of it, you'll need the right size boat. Here's a guide to choosing the best offshore fishing boat size for your needs.
You might also be interested in reading about the best boat for rough seas.
Recommended Minimum Boat Sizes by Distance Offshore
| Distance Offshore | Minimum Recommended Boat Size |
| --- | --- |
| Within 5 miles | 20 feet |
| 5-20 miles | 25-30 feet |
| 20-50 miles | 30-40 feet |
| 50+ miles | 40+ feet |
How Far Offshore Will You Be Fishing?
The distance you plan to travel from shore is the biggest factor in determining what size boat you need:
Within 1-5 miles from shore – Smaller boats from 15-25 feet work well for short offshore runs if weather is calm. Bay boats and smaller center consoles are common for nearshore fishing.
5-20+ miles offshore – Larger boats in the 25-35 foot range are better suited for heading further offshore. This gives you more fuel capacity, range, and seakeorthiness for rougher conditions.
20+ miles to 100+ miles offshore – Once you get over 20 miles out, boats over 35 feet become safer and more comfortable. The longer the run, the bigger boat you'll want for necessary fuel and supplies.
What Kinds of Conditions Will You Face?
Besides distance, also consider the typical wave heights, wind speeds, and weather conditions for offshore fishing in your region.
Calmer seas – Areas like the Gulf Coast and South Florida may only have 1-3 foot seas on average. This allows smaller boats under 30 feet to work well for many offshore trips.
Open ocean swells – Expect 3-6 foot or bigger wave heights along the Outer Banks, Pacific Coast, New England or other open ocean regions. Larger boats over 30 feet handle these rolly conditions much better.
Prone to storms – Locations like the Gulf of Mexico are also vulnerable to pop up thunderstorms and fronts that can kick up rough seas fast. Have a larger boat over 30 feet if storms are frequent.
See also: Best Boat For The Ocean.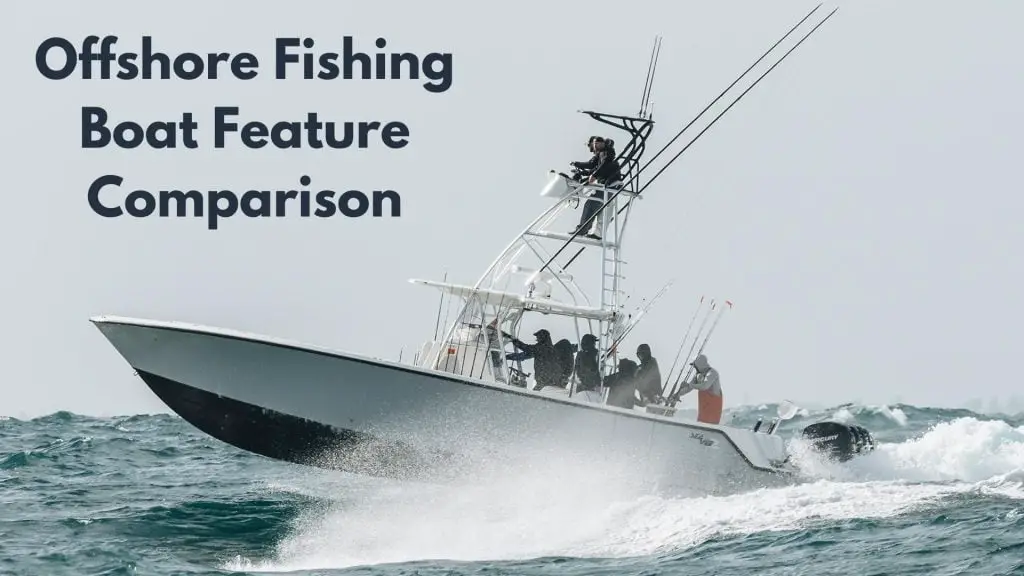 Offshore Fishing Boat Feature Comparison
| Feature | Benefit |
| --- | --- |
| Deep Vee Hull | Better stability and wave handling |
| Multiple Outboards | Redundancy if an engine fails |
| Self-Bailing Cockpit | Allows water drainage offshore |
| Foam Filling | Flotation if swamped |
| Full Transom | Prevents water entering cockpit |
| Electronics Package | Navigation and safety offshore |
| Safety Gear | Flares, EPIRB, life jackets for emergencies |
What's Your Budget for an Offshore Fishing Boat?
Larger boats are naturally more expensive, but focus your budget on the key offshore features:
Seaworthy hull – A deep V hull is essential for handling waves.
Multiple engines – Twins or triple outboards provide redundancy offshore.
Electronics – Radar, GPS, radios and fishfinders are must-haves.
Safety gear – Carry flares, EPIRB, life jackets, etc.
An older 30+ foot convertible or center console with the right gear is often a better choice than a brand new 20 foot bay boat for offshore use.
Conclusion
For most offshore fishing, a capable boat between 30-40 feet fits the need for seaworthiness, range, and amenities. But also consider your local conditions, skill level, and weather tolerance when deciding what size boat suits your offshore fishing needs.