Puerto Rico, with its famed 5-mile-deep trench and prolific marine life, is a hot spot for some of the world's best Blue Marlin Fishing.
This article will provide you with all you need to navigate Marlin Fishing in Puerto Rico – from spotting peak seasons and exploring top-rated charters to understanding local fishing regulations.
Key Takeaways
Puerto Rico is a top destination for marlin fishing, with its blue waters and abundant marine life attracting anglers from around the world.
The best time to target blue marlin in Puerto Rico varies depending on the location, with San Juan's main marlin season running from February to June.
Blue Marlin Alley, San Juan Offshore, and Caribbean Fishing Adventures are the top destinations for marlin fishing in Puerto Rico.
The History of Marlin Fishing in Puerto Rico
Marlin fishing in Puerto Rico is deeply rooted in the island's culture and history, tracing back to the early 20th century when the island nation emerged as a gateway to the Caribbean Sea.
The establishment of Club Náutico de San Juan in 1930 marked a significant milestone in Puerto Rico's nautical lifestyle. For over nine decades, the club has been at the forefront of promoting and celebrating the island's rich maritime heritage.
Record Marlin Catches in Puerto Rico
Several record-breaking catches punctuate the history of marlin fishing in Puerto Rico.
In 1956, Allen Sherman set the tournament's first record by reeling in a 756-pound blue marlin aboard the Sea Queen II.
This record was surpassed in 1959 when Joseph Widdowson caught a 780.5-pound blue marlin, pushing the record higher.
In August 2000, a colossal 1,086-pound blue marlin was caught off the coast of San Juan. This catch was the largest recorded in Puerto Rican waters at the time, further cementing Puerto Rico's reputation as a premier destination for marlin fishing.
The Average Size of Blue Marlin In Puerto Rico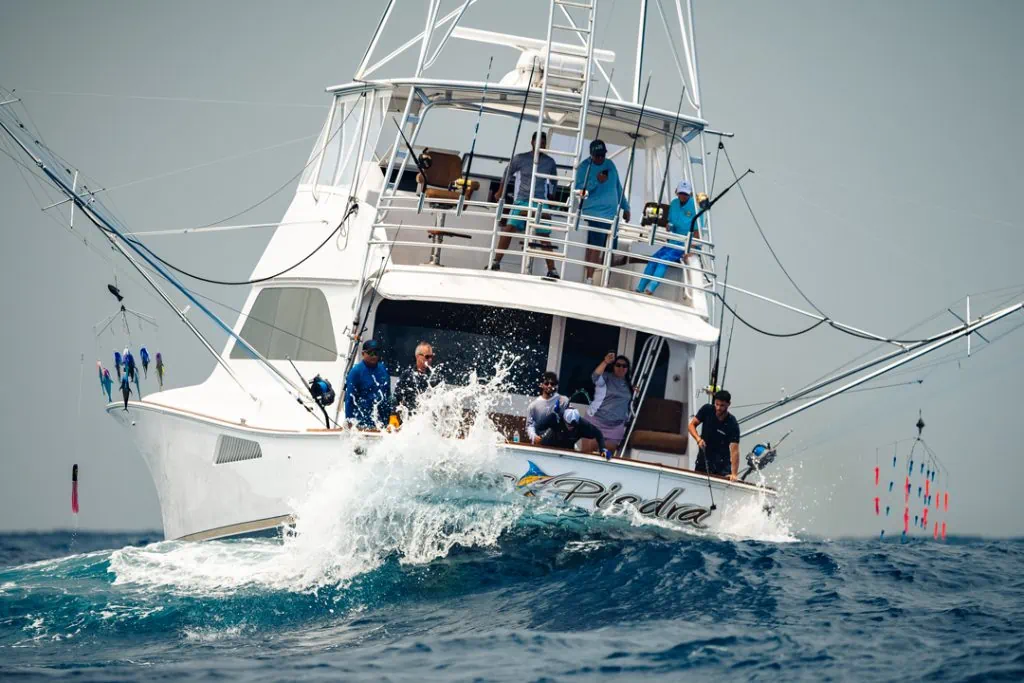 If you decide to visit Puerto Rico to try your luck at catching a Marlin, you can expect to find the average fish anywhere between 200-400 pounds, catching an avg of 2-5 per day. This is based on my recent experiences there.
Tip: Puerto Rico is a catch-and-release country.
Home of the International Billfish Tournament of San Juan
One of the club's most notable contributions to Puerto Rico's marlin fishing history is the creation of the International Billfish Tournament of San Juan.
This prestigious event held each August has the distinction of being the longest consecutively running big-game fishing tournament in the world. It has played a pivotal role in placing Puerto Rico on the global map as a top destination for marlin fishing.
Best Time for Marlin Fishing in Puerto Rico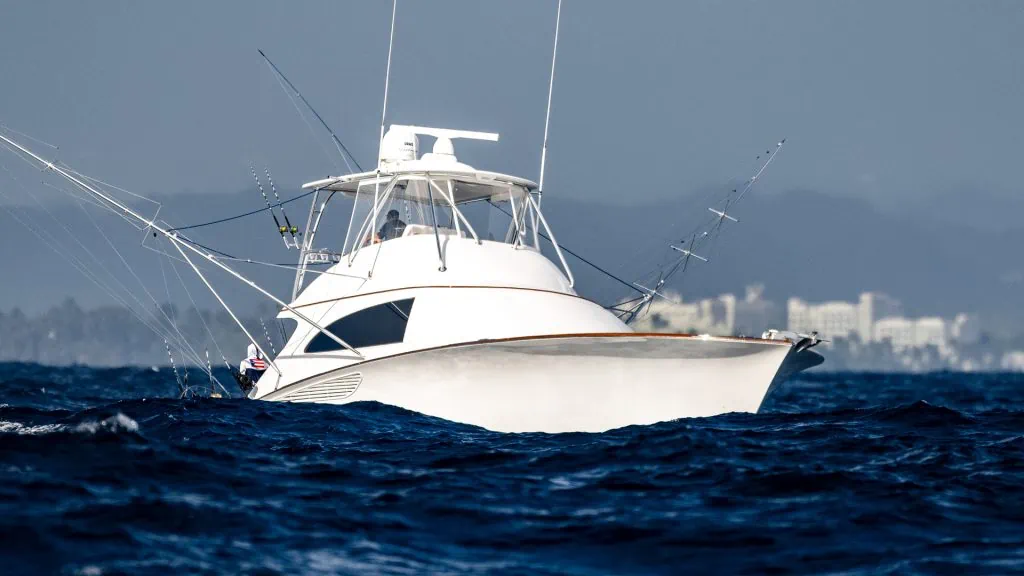 The best time to go marlin fishing in Puerto Rico is during the summer months, specifically from June to November. The peak season for marlin, particularly blue marlin, is from July through September.
Seasonality
San Juan enjoys a lengthy main season extending from February to June, while on the south coast, it shortens slightly, lasting March to May. Meanwhile, west-side anglers keenly anticipate two distinct migrations occurring annually during August and October through November.
Regardless of timing–be it low season spreading January into April or November through December–there is always an opportunity to bask under Puerto Rican skies with no closed seasons obstructing your epic quest for these awe-inspiring billfish.
Top Locations for Marlin Fishing in Puerto Rico
Several renowned locations stand out for the best Marlin fishing opportunities in Puerto Rico, such as: Caguas, San Juan, and Fajardo, also known as "Marlin Alley."
Caguas is a well-known hotspot for marlin fishing in Puerto Rico. This region boasts an array of fishing charters, so you won't have any trouble getting on the water.
While Caguas is not as famous as other marlin fishing locations in Puerto Rico, it has its own unique attractions that tourists can explore. The city is home to several museums, outdoor parks, and cultural sites. Some of the top attractions in Caguas include the Jardin Botanico y Cultural William Miranda Marin (Botanical Garden), Plaza Palmer, Arts Center, and Cathedral Dulce Nombre de Jesus.
Additionally, Caguas offers a variety of accommodation options, such as the Four Points by Sheraton Caguas Real Hotel & Casino.
San Juan likely offers you the best Marlin Fishing opportunities in Puerto Rico, with numerous fishing charters available, such as:
Sea Born Fishing
Blue Rush PR Fishing Charters
And The Drop Fishing Charters.
The waters surrounding San Juan Harbor, located just a few miles from the Marina, are teeming with blue marlin, thanks to the area's underwater geography characterized by sharp depths, hills, valleys, and trenches.
In addition to marlin fishing, San Juan offers a rich cultural experience and numerous attractions for tourists. Some of the top attractions in San Juan include Old San Juan, Castillo San Felipe del Morro, Paseo de la Princesa, and Castillo de San Cristobal.
The city is also home to beautiful beaches, museums, and a vibrant nightlife scene.
Fajardo, often referred to as "Marlin Alley," is another premium marlin fishing locale in Puerto Rico.
Fishing charters such as Bill Wraps Fishing Charters Puerto Rico, Fishing with Juan on the Marlyn Alley, and Father And Sons Fishing Charters are readily available here.
Marlin Alley is particularly renowned for the convergence of two large ocean current systems, creating prime waters for marlin fishing.
In addition to marlin fishing, Fajardo offers numerous attractions for tourists. Some of the top attractions in Fajardo include Cayo Icacos, Playa Seven Seas, Laguna Grande, and Marina Puerto del Rey. Fajardo is also home to one of Puerto Rico's bioluminescent bays, where you can kayak and explore the diversity of marine life. The Cabezas de San Juan nature reserve is another popular destination for outdoor adventures.
Mayaguez and Cabo Rojo, located on the west side of Puerto Rico, can be a pretty rewarding destination for Marlin fishing while also offering the opportunity for a good sailfish bite.
In addition to billfishing, Mayaguez and Cabo Rojo also offer other fishing opportunities, such as tarpon fishing. The region's diverse marine life and beautiful scenery make it an ideal destination for both experienced anglers and those new to the sport who are looking for a variety of species to target.
FAD Fishing in Puerto Rico
Fish Aggregating Device (FAD) fishing is a prevalent method in Puerto Rico that enhances catch rates by drawing fish into a specific locale.
The practice became part of a broader initiative with the introduction of the Puerto Rico FAD System in 2015. The initiative's primary goals were the restoration of sport fish populations and research into the interactions between pelagic species and fisheries in the vicinity of FADs in Puerto Rico and beyond
Types of Marlin Fishing Charters in Puerto Rico
Discover the various types of marlin fishing charters available in Puerto Rico and find the perfect option for your next adventure on the water.
Half-Day and Full-Day Trips
Experience the thrill of marlin fishing in Puerto Rico with half-day and full-day trips that cater to all levels of anglers. Whether you're a novice looking to try your hand at deep-sea fishing or a seasoned pro seeking the ultimate challenge, there are charter options available to suit your needs.
Choose from a range of reputable charters, such as Blue Water Fishing Puerto Rico and Fish Slayer Charters, known for their excellent customer ratings. Prices for these trips can vary depending on the duration and type of fishing, with options ranging from half-day excursions starting to full-day adventures priced at $800 or more per day.
Additional Species to Fish in Puerto Rico
In addition to pursuing blue marlin, anglers in Puerto Rico can also find other exciting species to fish. These include white marlin, sailfish, and longbill spearfish. Whether you're an experienced sport fisherman or a novice angler looking for a unique outdoor activity, these additional species offer plenty of opportunities for thrilling catches.
The waters of Puerto Rico are teeming with mahi mahi, swordfish, wahoo, yellowfin tuna, and more. With various fishing techniques like trolling and bottom fishing at your disposal, you'll have the chance to target these fascinating creatures while enjoying the beautiful surroundings of Puerto Rico's fishing grounds.
Puerto Rico fishing regulations
When planning a marlin fishing trip in Puerto Rico, it's essential to familiarize yourself with the fishing regulations in order to ensure a legal and responsible angling experience. The good news is that Puerto Rico has relatively lenient fishing regulations when it comes to marlin fishing.
Fishing licenses are not required for blue marlin charters, making it easier for anglers to embark on their thrilling deep-sea adventure without any paperwork hassle.
Furthermore, Puerto Rico has no closed season specifically for marlin fishing, allowing enthusiasts to indulge in this exhilarating sport year-round. This flexibility means you can plan your trip at any time of the year based on your personal preferences or availability.
Planning Your Trip: Transportation and Accommodation
Planning a trip to Puerto Rico for marlin fishing? Here's what you need to know about transportation and accommodation:
Flights to Puerto Rico are readily available from major US cities, with direct flights from locations such as Miami, New York, and Atlanta. The Luis Muñoz Marín International Airport in San Juan is the main international gateway, offering easy access to the island.
Once you arrive in Puerto Rico, renting a car is recommended for convenient transportation. This gives you the freedom to explore different marlin fishing destinations at your own pace.
In terms of accommodation, there are plenty of options to choose from in Puerto Rico. San Juan offers a wide range of hotels and resorts catering to different budgets and preferences. If you prefer a more secluded experience, consider staying in beachfront villas or rental homes near popular marlin fishing spots.
It's advisable to book your accommodation in advance, especially during peak fishing seasons when availability might be limited. Online platforms like FishingBooker can help you find suitable options and make reservations beforehand.
When selecting accommodation, consider factors such as proximity to marinas or charter operators, amenities like private docks or boat rentals, and access to other outdoor activities or attractions.
Don't forget to inquire about parking facilities if you plan on bringing your own vehicle or renting one during your stay.
FAQs
What types of marlin can be caught in Puerto Rico?
The only other types of Marlin that can be caught in Puerto Rico are White Marlin, but, as far as billfish, you can also catch Longbill Spearfish and Sailfish in the waters of Puerto Rico.
Can you catch swordfish in Puerto Rico?
Yes, thanks to the extremely deep Puerto Rican trench, you can absolutely catch Swordfish in Puerto Rico.
Conclusion
Marlin fishing in Puerto Rico offers anglers the ultimate thrill and adventure. With its stunning blue waters, top-notch charters, and abundance of marlin species, it's no wonder that this Caribbean destination is a favorite among fishing enthusiasts.
Whether you're a seasoned pro or a beginner looking to experience the excitement of reeling in a big catch, Puerto Rico has everything you need for an unforgettable fishing trip. Don't miss out on exploring this tropical paradise while satisfying your angler's heart!