Marlin Fishing in the Azores
The Azores, a group of volcanic islands in the North Atlantic, is a top destination for sport fishermen looking for an unforgettable big-game fishing experience. With direct access to prime fishing locations like the Condor Bank, Azores Bank, and North Coast of Faial, Azores marlin fishing has become increasingly popular among fishing enthusiasts from around the world.
The key benefits of Marlin Fishing in the Azores:
Direct access to prime fishing locations
Relatively calm waters for comfortable fishing experiences
Opportunities to catch Large Blue Marlin and even Granders
A hub for charter and private game boats in Horta harbor
Top Locations for Marlin Fishing in the Azores
Condor Bank
Condor Bank, located west of Faial Island, is one of the most popular spots for Azores marlin fishing. The unique underwater structure of this area attracts an abundance of marine life, making it an ideal location for big-game fishing. Sport fishermen often head to Condor Bank to chase granders and experience the thrill of catching blue marlin.
Azores Bank
The Azores Bank, situated between São Miguel and Santa Maria islands, is another prime location for marlin fishing in the Azores. The deep waters of this underwater plateau provide the perfect habitat for blue marlin and other big fish, making it a favorite spot among experienced captains and charter boats.
North Coast of Faial
The North Coast of Faial offers some of the most productive marlin fishing grounds in the Azores. The region's nutrient-rich waters and favorable conditions during the summer months attract large numbers of blue marlin, providing ample opportunities for anglers to test their skills and land a record-breaking catch.
Horta Harbor as a Hub for Charter and Private Game Boats
Horta harbor, located on Faial Island, has become a central hub for charter and private game boats in the Azores. This bustling harbor offers a variety of options for sport fishermen, ranging from experienced captains to top-notch fishing equipment. The calm waters and abundance of fish make Horta harbor the ideal starting point for an unforgettable Azores marlin fishing adventure.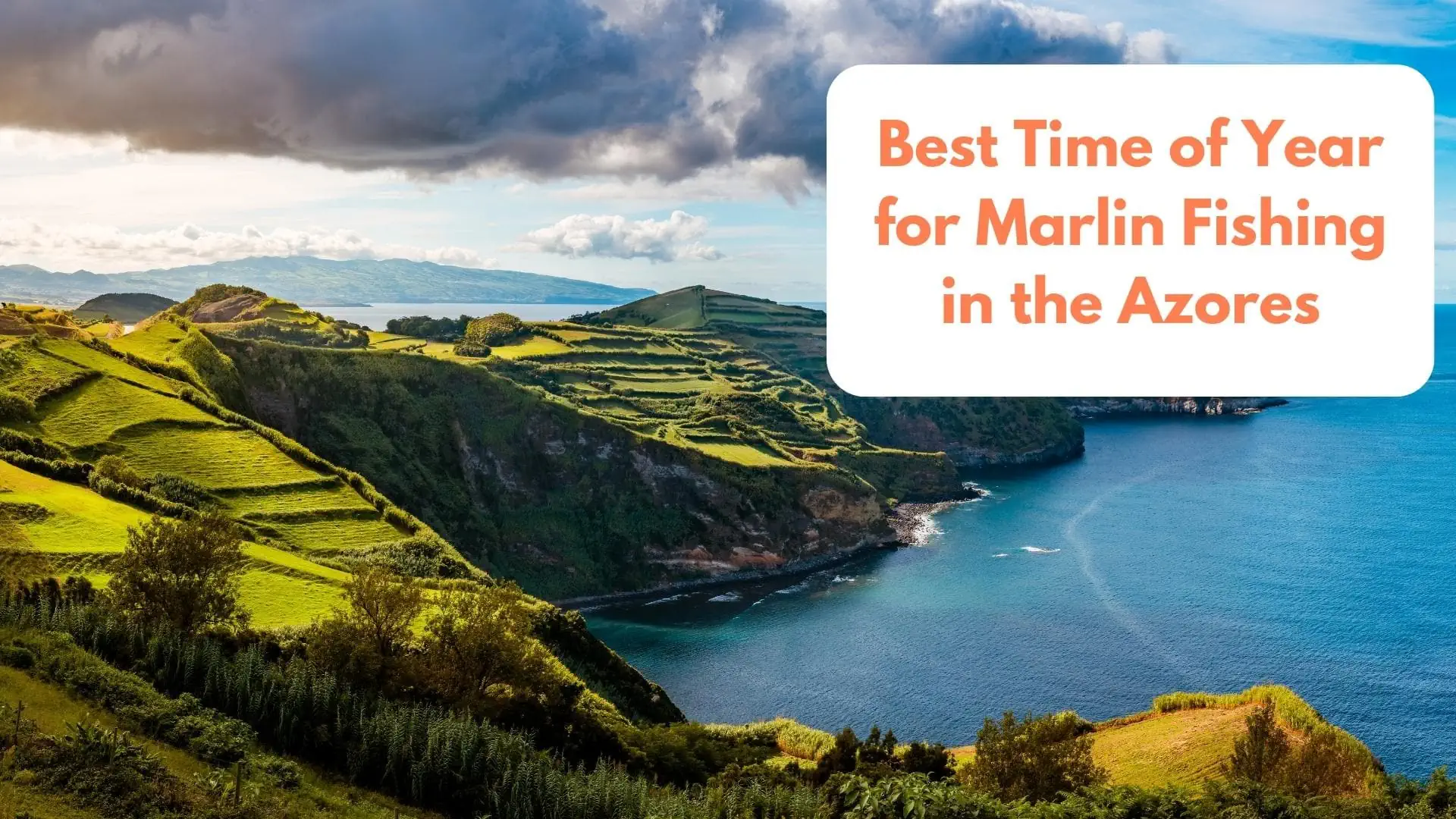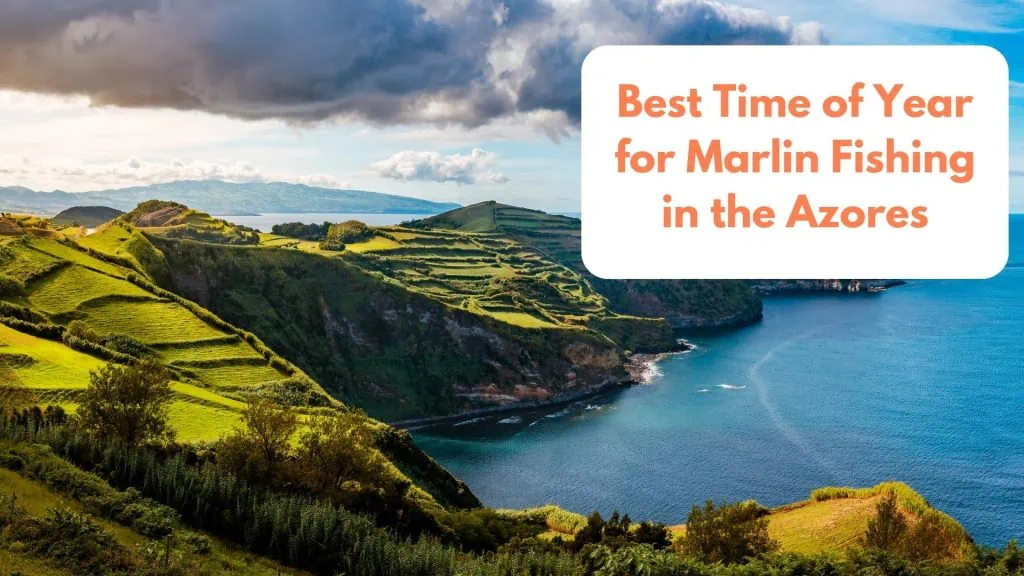 Best Time of Year for Marlin Fishing in the Azores
Summer Months: August to Early October
The best time for Azores marlin fishing is during the summer months, specifically from August to early October. During this period, blue marlin are more abundant, increasing the chances of landing a big catch. Sport fishermen from around the world flock to the Azores during this time to experience the thrill of big-game fishing.
Weather and Water Conditions during This Period
The summer months offer favorable weather and water conditions for marlin fishing in the Azores. The North Atlantic waters surrounding the islands are typically calm, with warm sea surface temperatures that attract large numbers of blue marlin. These conditions make it an ideal time for both experienced anglers and beginners to enjoy a memorable fishing experience.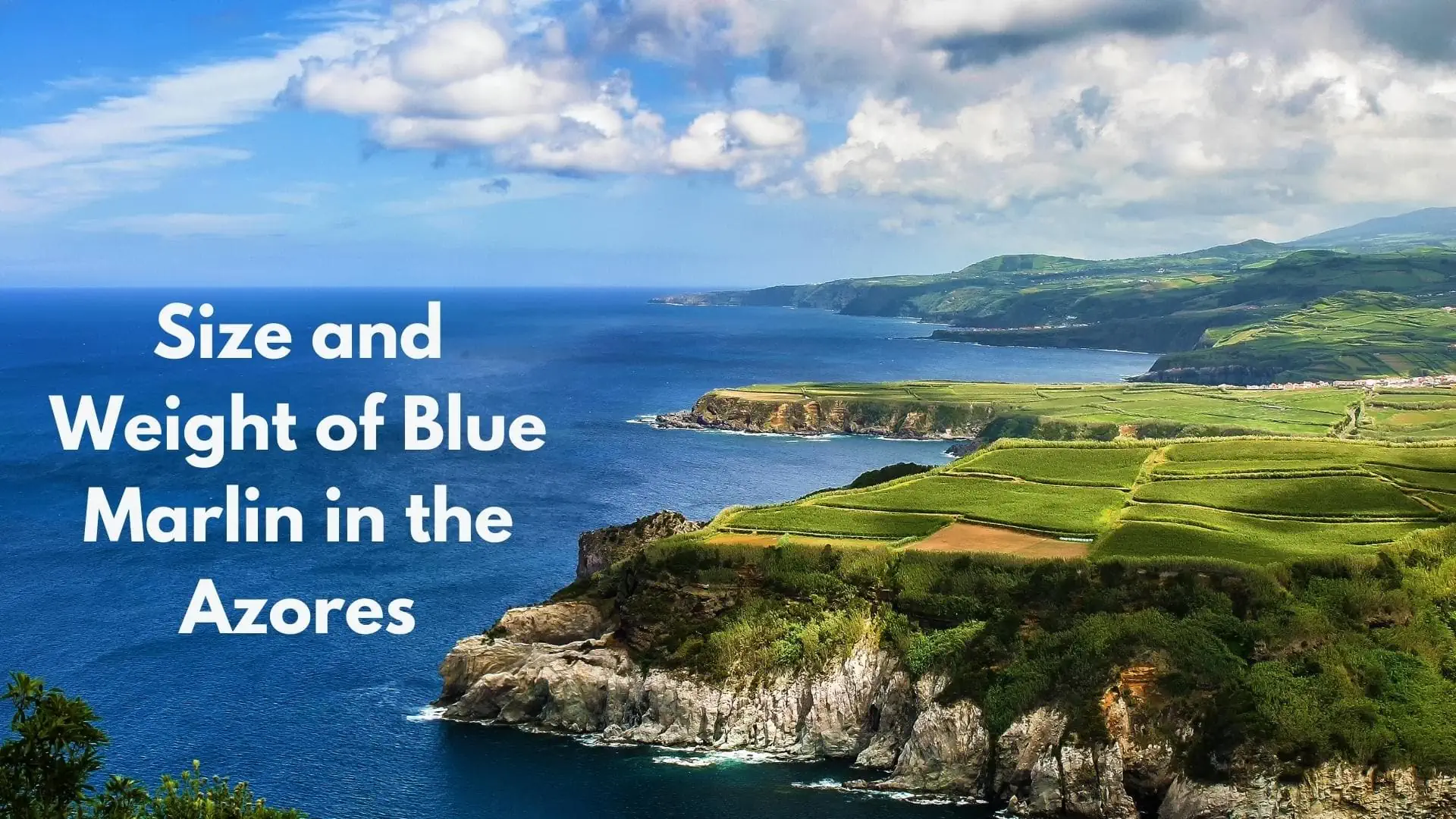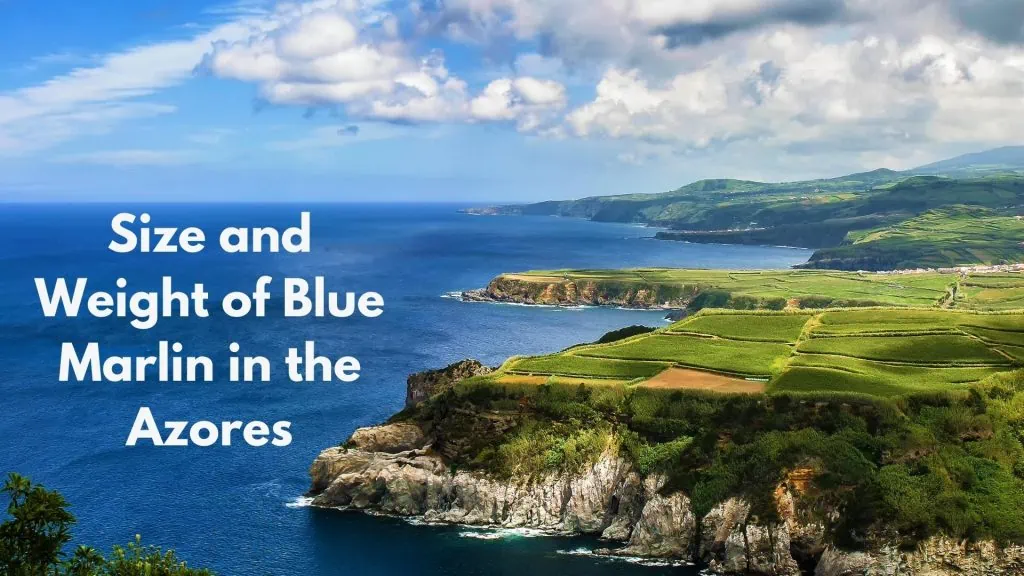 Size and Weight of Blue Marlin in the Azores
Average Size: 450 to 500 Pounds
The average size of blue marlin caught in the Azores ranges from 450 to 500 pounds. These impressive fish are a sought-after prize among sport fishermen who appreciate the challenge and excitement of pursuing such powerful, fast-swimming, and massive creatures.
Largest Blue Marlin Caught: 1,310 lbs
The largest blue marlin ever caught in the Azores weighed a staggering 1,310 pounds, setting a world record and showcasing the region's potential for landing trophy-sized fish. The chance to catch a marlin of this size is part of what draws sport fishermen to the Azores, eager to test their skills against these incredible creatures.
Notable Blue Marlin Fishing Achievements in the Azores
Record of 5 Granders Caught Since 2016
The Azores marlin fishing scene has seen some incredible achievements, with a record of 5 granders (blue marlin weighing over 1,000 pounds) caught since 2016. This accomplishment highlights the region's reputation as a prime destination for big fish experiences, attracting sport fishermen from around the world in pursuit of these magnificent creatures.
Most Blue Marlin Caught in One Season: 112 (Capt. Les Gallagher)
Captain Les Gallagher set an impressive record by catching 112 blue marlin in a single season. This extraordinary feat showcases the skill and expertise of Azorean captains and their ability to locate and catch these elusive fish. Anglers who charter with experienced captains like Gallagher can increase their chances of landing a prized catch.
World Records on Light to Medium Tackle
The Azores are also home to several world records for blue marlin caught on light to medium tackle. These achievements demonstrate the skill and finesse required to successfully land such powerful fish using lighter gear. Anglers visiting the Azores have the opportunity to test their mettle and potentially set new records in the world of sport fishing.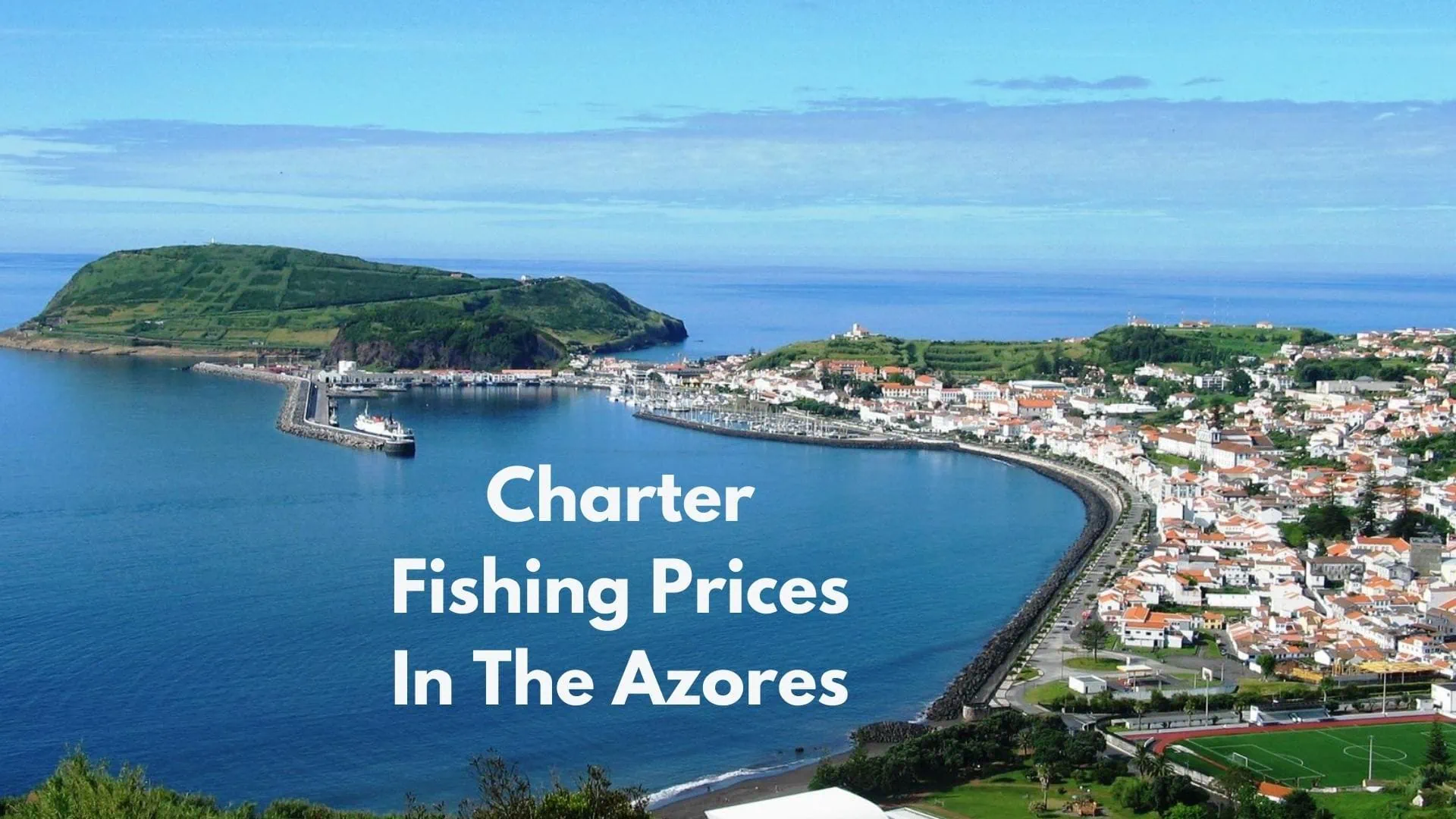 Charter Fishing Prices In The Azores
Below are some numbers we have crunched to give you an idea as to the average cost of a marlin fishing charter in the Azores. These are only estimates and calculations, and they are subject to changes due to the boats expenses such as fuel and food:
| Boat Length | Max. Capacity | Average Price per Trip |
| --- | --- | --- |
| 23′ | 4 persons | $494 |
| 28′ | 6 persons | $604 |
| 33′ | 4 persons | $659 |
| 42′ | 8 persons | $878 |
| 30′ | 8 persons | $659 |
| 25′ | 4 persons | $549 |
| 26′ | 6 persons | $329 |
| 32′ | 8 persons | $659 |
| 43′ | 10 persons | $878 |
| 28′ | 6 persons | $604 |
FAQ
What fish can you catch in the Azores?

Fish you can catch in the Azores are Atlantic Blue Marlin, White Marlin, as well as Yellowfin and Big Eye Tuna. Also possible, but rare, are the occasional Swordfish and of course, various types of sharks.

Are there Orcas in the Azores?

Yes, you can find Orcas in the Azores as well as 27 other species of whales.