Selling a boat can be an arduous process, often taking longer than expected. According to one study, the average time for selling a used boat is over 300 days!
If you're wondering why your boat isn't selling, this article aims to provide some helpful insight into potential causes and solutions.
Your Boat Is Overpriced
If your boat isn't selling, the number one reason we see is that your boat is overpriced.
This usually happens when you haven't performed the necessary research to determine an appropriate price point for your vessel.
If this is the case, it can make buyers wary of making a purchase or even a call, as they may feel like you re trying to take advantage of people or that you are an unrealistic seller who could be unwilling to negotiate.
Bad Photos
Poor photos are another potential issue that could explain why your boat isn't selling. Many buyers will not commit without seeing how the boat looks and don't wish to waste their time visiting a boat if they can't tell upfront that it's likely what they are looking for.
Color
The color scheme also matters; many people prefer boats with bright, cheerful hues rather than dull shades that don't stand out from the crowd. Color preference might also be localized, for example, Tropical colors will do better somewhere like Florida.
Your Boat Doesn't Show Well
Competitive pricing isn't always enough – if people don't like what they're seeing, then it won't matter how low you price the boat.
Presentation is key, so make sure to hire a professional boat detailer or take your time and clean your boat thoroughly. A coat of wax after a buff couldn't hurt, either!
You Have An Ineffective Listing Agent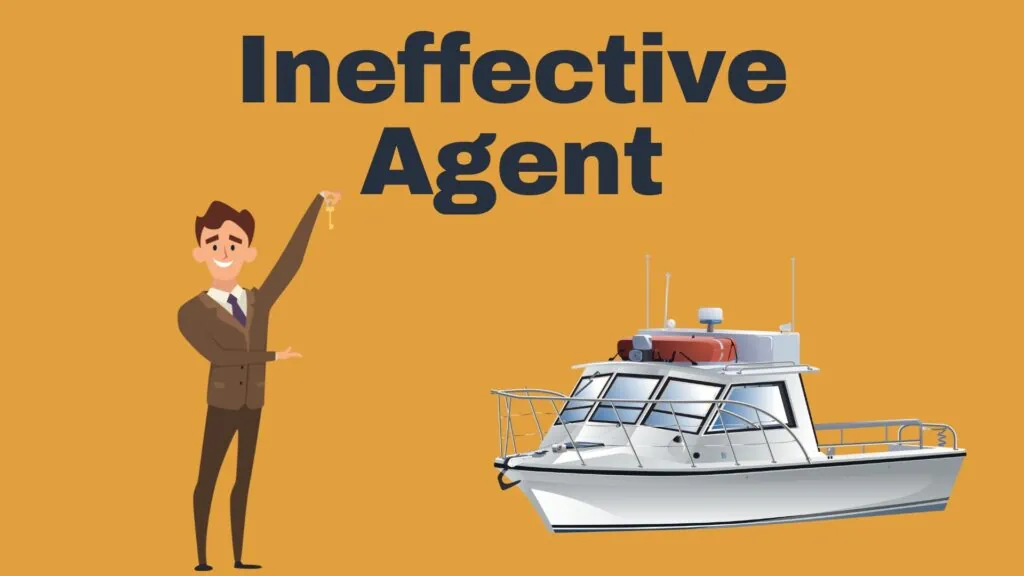 Your boat may not be selling due to an ineffective listing agent or broker. There are several factors that can contribute to this, such as:
Inaccurate descriptions
Lack of research
Sub Par Advertising
Inadequate staging
Poor communication with potential buyers
Honest and Accurate descriptions
First, your listing agent might not be providing accurate descriptions when advertising the boat online or in print. This could lead potential buyers to believe information that isn't true about the vessel or its condition. In addition, they may also neglect to provide important details regarding maintenance history or any recent upgrades you've made.
Lack of Knowledge and Research
Second, it's possible that a lack of research is contributing to the problem; if your agent doesn't have knowledge of similar boats in the area, then they won't know how to competitively price yours so that it stands out from others on the market.
Advertising
One of the main reasons you hire a broker is to ensure you have proper advertising and imagery. These are professionals and should show your boat accordingly. If your photos are inadequate and posted on websites that are spammy, the chances of a real buyer finding your boat and liking what they see when they do, are significantly lower.
Staging and Poor Communication
inadequate staging and poor communication between yourself and your agent can prevent them from effectively marketing your boat for sale.
Without making necessary repairs prior to showing the boat or staying in touch with prospective customers during their decision-making process, there's little chance of finding a buyer who feels confident enough to purchase your vessel.
Your Boat Is Docked At A Remote Location
Having your boat at an easily accessible marina near major roads and highways is always going to encourage more interested buyers to visit because they won't feel like seeing your boat is a burden on their schedule.
Engines And Generators Have High Hours
It is important to note that an engine or generator with high hours may also be a contributing factor as to why your boat isn't selling.
You know you took care of and serviced your boat, but the buyer doesn't. If you do have a lot of hours on an engine or a generator, consider upgrading or at least compiling a detailed list of service records.
Market Conditions And Competition
The timing of your sale can affect the final sale price. If you're selling your boat in a buyer's market, where there is more inventory than demand, be prepared to be flexible on price. Conversely, if you're selling in a seller's market, you might be able to command a higher price.
Ineffective Marketing
Although photos and detailing could fit into marketing, good marketing of a boat also involves how you describe it and where you advertise it.
On your listings, make sure you are being as detailed as possible with every single feature the boat has and any upgrades you have made. More information builds trust with potential buyers, who will then be more likely to call about your boat.
Also, ensure your ads are diverse. Facebook Marketplace is a great place to get an ad going for free, but you should also be cross-posting those ads in Facebook groups related to your type of boat and local. Consider forums and online marketplaces as well.
These websites do cost money but are often necessary to reach people who are not fans of social media, which many boaters tend not to be!
Your Boat's Builder Is Out Of Business
If the builder of your boat is no longer in business, it may impact the resale value.
However, if the builder had a good reputation or if the boat has unique features, it can still be appealing to potential buyers. Ensure your marketing highlights the positive aspects of your boat to help overcome any challenges to a builder that is no longer in business.
Conclusion
In conclusion, understanding these common obstacles and taking action to address them can significantly improve your chances of selling your boat.
Make sure your boat is priced competitively, well-maintained, and marketed effectively to attract potential buyers and increase your chances of a successful sale.